Warning
: Declaration of C_DataMapper_Driver_Base::define($object_name, $context = false) should be compatible with C_Component::define($context = false) in
/home/samantha/public_html/brainmade/wp-content/plugins/nextgen-gallery/products/photocrati_nextgen/modules/datamapper/class.datamapper_driver_base.php
on line
718
Warning
: count(): Parameter must be an array or an object that implements Countable in
/home/samantha/public_html/brainmade/wp-content/plugins/nextgen-gallery/products/photocrati_nextgen/modules/fs/class.fs.php
on line
297
Warning
: count(): Parameter must be an array or an object that implements Countable in
/home/samantha/public_html/brainmade/wp-content/plugins/nextgen-gallery/products/photocrati_nextgen/modules/fs/class.fs.php
on line
297
Warning
: count(): Parameter must be an array or an object that implements Countable in
/home/samantha/public_html/brainmade/wp-content/plugins/nextgen-gallery/products/photocrati_nextgen/modules/fs/class.fs.php
on line
297
Warning
: count(): Parameter must be an array or an object that implements Countable in
/home/samantha/public_html/brainmade/wp-content/plugins/nextgen-gallery/products/photocrati_nextgen/modules/fs/class.fs.php
on line
297
Warning
: count(): Parameter must be an array or an object that implements Countable in
/home/samantha/public_html/brainmade/wp-content/plugins/nextgen-gallery/products/photocrati_nextgen/modules/fs/class.fs.php
on line
297
Warning
: count(): Parameter must be an array or an object that implements Countable in
/home/samantha/public_html/brainmade/wp-content/plugins/nextgen-gallery/products/photocrati_nextgen/modules/fs/class.fs.php
on line
297
Warning
: count(): Parameter must be an array or an object that implements Countable in
/home/samantha/public_html/brainmade/wp-content/plugins/nextgen-gallery/products/photocrati_nextgen/modules/fs/class.fs.php
on line
297
On friday, I reunited with a few of my dearest high school friends, of which I've known since elementary or middle school. We had a lot to catch up on, and had many stories to tell so I chose Lovejoy's Tea Room in San Francisco since one of my friends Teresa had been there before.
It was the perfect spot, as we each got bottomless tea and welcoming service. We were there till closing, catching up on everything. We ordered the High Tea service, which came with sandwiches, salad, coleslaw, scones and tea biscuits. We also decided on petit fours to end our meal. I would recommend this to anyone who wants to sit and chat for a few hours with a friend. It has such a homey welcoming feeling. For around $25 including tax and tip, the service, food, tea and experience made it worth it!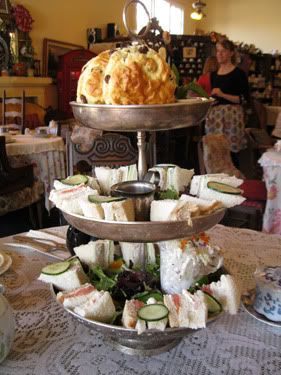 We ordered an assortment of different sandwiches, each choosing two kinds. I chose chicken apple walnut and cucumber and cream cheese. I decided on pomegranate green for my tea.